Signs, Business Cards, Flyers and Marketing Resources
Marketing Resource Information
Click the links or scroll down the page to review each section:
Required Branding Policies for Marketing Compliance
Review the Kelly Right branding policies and your state/association policies before creating and ordering your marketing and advertising materials to be sure your marketing is in compliance.
PURCHASE: Signs, Business Cards & Folders
The Kelly Right Real Estate store is hosted by Build a Sign and currently carries: For Sale signs, Open House signs, Business Cards, Folders, Rider Signs,  Banners, Sign Posts, Hardware, Flyer boxes and more. 
Kelly Right Real Estate does not manage this store. For questions about your order, account, shipping etc, you must contact Build A Sign directly at 800-626-0875. Kelly Right Real Estate can not assist you with order or website issue questions.
It is not required that you order through this store. Design templates are below if you prefer to use a different printer and make custom changes to the designs.
40% OFF discount on Signs is often posted at the top of the website when they are offering a sale. There is no promo code, the discount is taken off at checkout.
If you need customizations to your design, or a sign size or type that is not offered in our store, please contact Build-A-Sign support for assistance.
Support Contact: 800-626-0875
CREATE: Signs, Business Cards & Flyer Templates with Canva
Editable Business Cards, Flyers & Sign Templates through Canva
Create and edit your own signs, flyers and business card templates, with the Kelly Right templates that you can easily edit for free.  You will need to create a free Canva account to edit the templates if you do not already have one. (Canva instructions and tutorials below).
The Editable Canva Templates file contains the Brand Identity Guide for marketing policies, Canva tutorials, logos, template files (Signs, Business Cards and Flyers), and instructions.  You will need to sign up for a Dropbox account to open the file if you do not have one.
You are welcome to use any graphic designer, printer, post installer etc. Many agents have found quick turnaround times – sometimes even same day printing- at nationwide companies such as Office Depot, Staples and Fast Signs.
Home Seller Checklist Booklets! Ready To Use & Editable Canva Templates
Ready to Use with Company Marketing
Below are two Home Seller Checklists that are ready to use. These options have company information instead of agent specific information. Just staple your business card on it if printing, or include the link in your online marketing. 
One has the standard orange and blue Kelly Right colors. The other has neutral colors (grey, beige and white) with the black Kelly Right logo.
Do you want a professional and helpful guide of seller information for your listing clients? With these Home Seller Checklist guides, you can provide a memorable marketing tool to potential clients, that can help you win a listing! We have four options for your marketing needs. 
These Home Seller Checklists cover:
Editable Templates for Your Personal Marketing
For agents who want to personalize the Home Seller Checklist, here are two options you can edit in Canva to include your own marketing information.  Write a biography (a template is included that you can easily edit), add your photo, team name, colors, team logo, contact information and compliance information (check with your state, MLS/association for local policies).  
The only two pages that need your editing is the first and last page, though you are welcome to personalize other pages. (Canva instructions and tutorials in the section below).
*Note: if you use these editable options, you must still keep "Kelly Right Real Estate" on your packet and adhere to our company brand policies, linked below for review.
Canva is a free and easy to use editing program for marketing resources. There are options to purchase printing and upgrade services to a Pro Account (and some design elements are Pro element designs you have to purchase for small fees), but you do not need to purchase anything to use our templates.
In addition to the Canva templates we provide, Canva also has ready made and simple to customize templates already built in that you can also use including: listing flyers, postcards, social media posts, video editor (you can record a quick intro video), presentations, logos and so much more. 
There are also plenty of real estate templates you can purchase for affordable prices on Etsy. From flyers, to social media posts, open house flyers, new client packets, listing presentation bundles and more, there are plenty of options available. 
Canva is a quick and affordable way for you to build your personal brand and create effective marketing materials.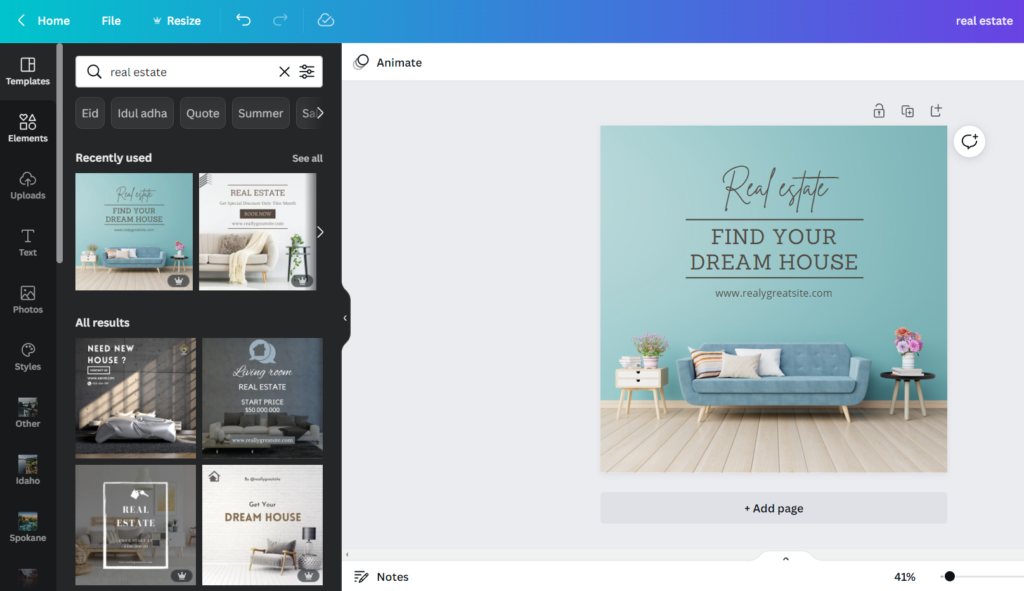 Additional Resources for Flyers, Social Media, Presentations, Google My Business...
Listing Booster: Lead Generation
Listing Booster is a program that allows you to make virtual tours,  flyers, social media share options, call capture through rider sign text codes, presentations and more. 
Listing Booster is sponsored by Modus Mortgage, NMLS# 1028232  and it is required that whenever possible, you make every effort to refer mortgage loans to Modus.  Modus is available in WA, OR, ID, FL, MT, UT, OK and AL.     *Affiliated Business Agreement.  

ZipYourFlyer: Branded Flyers & MLS E-mail Service
Easily create email flyer blasts and printed flyers for your listings at extremely reasonable prices!  ZipYourFlyer emails your listing flyers to the agents in your selected MLS.
There are impressive Kelly Right branded templates already set up to make the ordering process quick and easy for you. 
ZipYourFlyer sends new agents *login instructions frequently. The email will come from subscription@zipyourflyer.com.
ListReports: Marketing Resources
ListReports is a *free service that provides marketing resources for your listings. It has marketing tools for marketing to buyers, social media shareables, market reports you can share, articles and more. This system is designed to help you create engagement on your social media, printable marketing kits to help impress clients in presentations and more.
Contact: support@listreports.com
*Some resources, such as ListPacks, may not be available on the free plan.
Free Resources through Breakthrough Broker
You will need to create a free account to use some of the customizable options. You can download printables to print elsewhere, or pay for their printing.
Social Media & Google My Business
Social media marketing provides a great way to engage with your current customers while also reaching new audiences.  
Visit our Social Media portal module to learn how to set up your social media profiles for success, set up Google ads, Google My Business profile, learn about SEO and keywords, create post content resources, learn how to respond to positive and negative reviews and more! 
kvCORE: Website, IDX & Technology Website
kvCORE is an industry leading, powerful marketing tool and lead incubation system which provides you: your own website with an idx listing search, your personalized branded mobile app, custom CRM (customer relationship management system), scripts, squeeze pages for ads, drip campaigns, the ability to make CMA's for listing presentations, plenty of training and so much more! Kelly Right provides this $700+ program to our agents for free to help increase your business. 
kvCORE has it's own page on the Agent Portal, click the button below to find out more.