kvCORE CRM Technology & IDX Listing Search Platform
Please click on the links or scroll down the page to review information about kvCORE, our lead generating, CRM, IDX technology system on the following topics: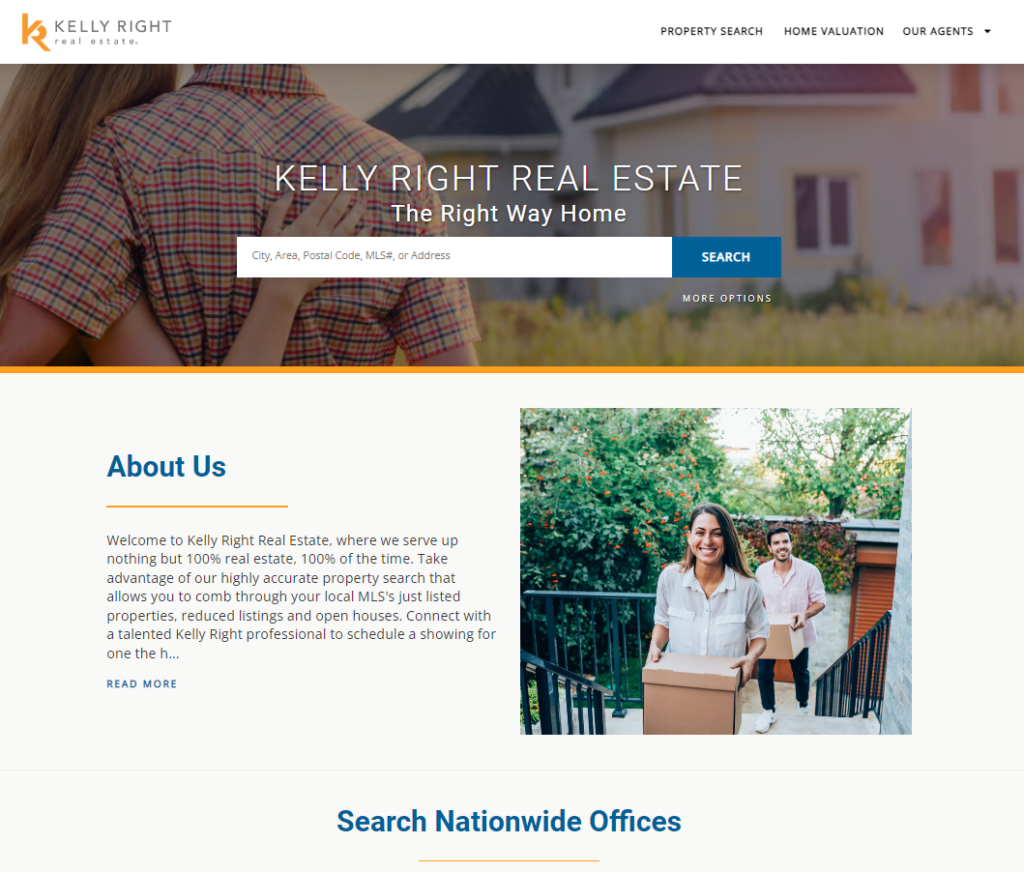 kvCORE: Lead Nurturing, IDX Search, CRM, Mobile App and Personal Website
kvCORE is an industry leading, powerful marketing tool and lead incubation system which provides you: your own website with an idx listing search, your personalized branded mobile app, custom CRM, scripts, squeeze pages for ads, drip campaigns, simple market valuations, plenty of training and so much more! Kelly Right provides this $600+ program to our agents for free to help increase your business. Kelly Right's kvCORE website is kellyrightrealestate.com
Why am I not appearing on the Agent Roster? How do I get a kvCORE Account?
You Must Request a kvCORE Account
ONLY agents who have requested kvCORE accounts will appear on our kvCORE Agent Roster.  If you have not requested to be added to kvCORE and have not received your log in and training information, then you do not have a kvCORE account and will not appear on the company's kvCORE roster. All of our agents, whether they do, or do not have a kvCORE account, will still appear on our company roster on kellyright.com. Details explaining the difference of these accounts in the section below.  
If you would like to use kvCORE, contact Lisa at laaron@kellyright.com to have your free kvCORE account activated. Lisa will then create your account and email you account log in and training information. That training information is also included on this page.
>> Kelly Right Real Estate reserves the right to revoke kvCORE licenses from agents who are not actively using their accounts (approximately 4 months of no activity and we may delete the account or limit your ability to receive leads).  This is to open the license for agents who will use the program, and so that leads are not being sent to inactive agents who are not using the account.
kvCORE is FREE! There are optional upgrades in the marketplace for you to purchase add-on services such as: vanity domain names, smart number add-on, concierge services, lead programs and boost listings with ads. However, you can still use the system as we provide it to you for free.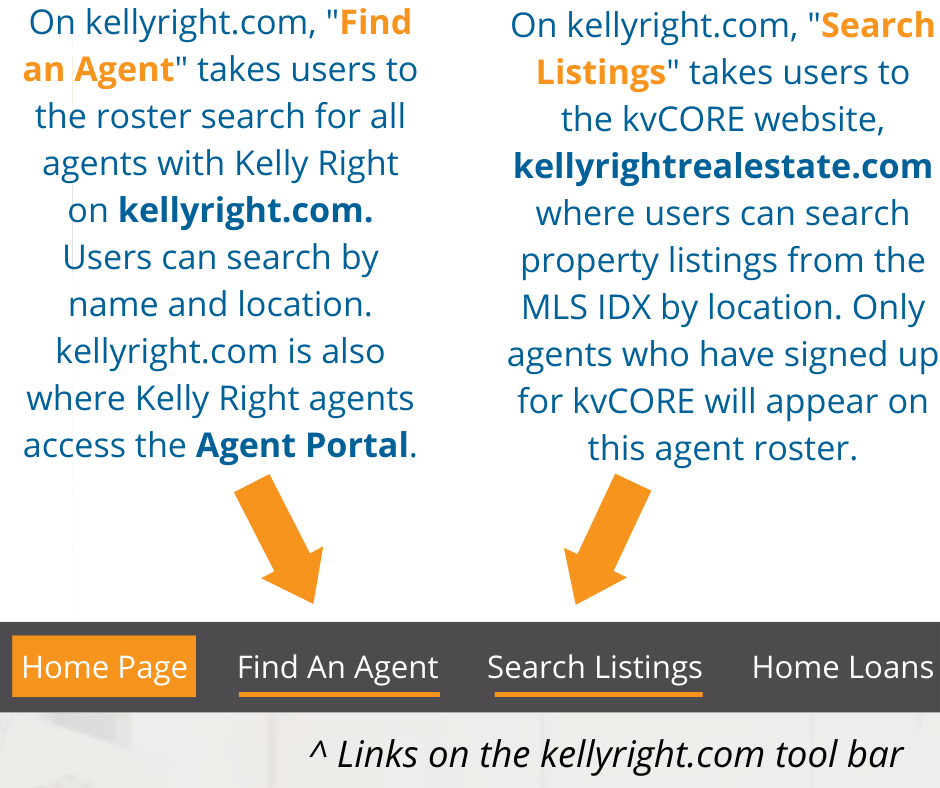 Agents who are on kvCORE, will have two websites, one on kellyright.com and one on our kvCORE website, kellyrightrealestate.com. 
Please see the image showing the difference between these two websites. The Agent Profile Website shown on the left, is on kellyright.com. This is the basic, agent biography website that every Kelly Right agent receives. Users will be able to find your profile on our "Find an Agent" link as long as you have filled out your profile with your service areas. 
The kvCORE website shown on the right is on kellyrightrealestate.com. ONLY agents who have requested kvCORE accounts and have been added to kvCORE will appear on this agent roster. This is where the tools are for your CRM (customer relationship managment system), lead generation, idx feed, listing search and more.
kellyright.com does not have an IDX feed for property and listing searches.  Instead, the "Search Listings" link takes users to our kvCORE website, kellyrightrealestate.com, where there is an IDX feed for searching listings.  
Corporate Website: kellyright.com
kvCORE: kellyrightrealestate.com
kellyright.com is our main, corporate website.  Since you are on the Agent Portal, this is the website you are currently on. This is the website where new agents can fill out our join paperwork and learn about Kelly Right Real Estate as a company.
The "Find An Agent" link on kellyright.com, shows a roster search of all of our agents, even those who are not on kvCORE. Every agent with Kelly Right has a basic, agent biography website that was created for them during onboarding on kellyright.com.
Users can search this roster for agents based on name, city and state. This is why it is important to put your cities served in your profile settings. Instructions on how to add locations to your kellyright.com bio website here.
Training, Tutorials and Support
Kelly Right Recorded Webinars are at the top of your kvCORE Dashboard, and additional Support and Training  are on the left hand side menu when logged in to your account. Chat support is on the lower right of your Dashboard screen.
This image is the Dashboard of your kvCORE account and where you can find training and support.
While there are some account issues that Kelly Right  can assist you with, most technical issues or questions must be asked to kvCORE directly.  The Customer Support chat is best for account and technical issues, and the Facebook Discussion Group is great for ideas on how to use the program and tutorials.
How to Set Up Your kvCORE Profile & Location Settings
Instructions & Frequently Asked Questions
Fill out your Profile: Add a profile picture, title, tagline, MLS id#, social media links, contact details, license #, biography, website settings, testimonials, email signature, edit your locations and more.
You MUST add your MLS id # to your profile for the idx feed and system to work properly.
Html Issue in Biography Section: The system does not like html in the biography section. If you copy/paste biography text from another source, you must paste as plain text without html (such as color/font etc., you can add those later).
Clear Cache for Changes: If you make an update to your website and the changes don't update, then you have to manually clear the domain's cache, you need to type  /?FLUSH_CACHE=1  at the end of your url domain name, press "Enter" and it will update the website. Then, close the browser window and enter in your domain name again, and the changes should appear.
Example: http://yourname.kellyrightrealestate.com is your website url. To flush the cache (that means update the changes) you need to type: http://yourname.kellyrightrealestate.com/?FLUSH_CACHE=1
Premium Website Design Overview: https://docs.google.com/document/d/1RXVOGN7u9gcWz-wG607qhgqrG7RHKyblVDnrt1LzkWw/edit
How to Edit Your Website Settings (Quick 5 minute video): https://ire.wistia.com/medias/96m93fukos
If your IDX feed is not appearing: There are two possible reasons for this:


1. If you are in two office locations, (example: Idaho and Montana), then only one primary area's cities will show up in your account, since the website settings will only auto-populate only one website's settings, even though you are connected to both offices and both IDX feeds. The IDX search will still work for both areas. However, you can edit the locations to any cities that you would like to reflect both locations.

2. If you are in an area that Kelly Right has recently added agents in, the IDX feed for the local MLS may not be set up yet. Scroll down to the bottom of your website and you will see which MLS' are connected to your website. If you do not see your MLS, contact Lisa at laaron@kellyright.com and she can request the IDX feed to be added. The standard turnaround time to add an MLS IDX feed is approximately 10-14  business days.

If your listing is not appearing in your locations, you will need to contact kvCORE support directly. They will need the date it was made active on the MLS, the MLS # and the address. They may also need other info. We at Kelly Right cannot troubleshoot syndication issues so you will have to contact kvCORE.
When an agent is moving from one brokerage to another and already has a kvCORE account with their previous brokerage, the agent can request an export of their leads and data directly from kvCORE. Depending on what other information you need and who was your previous broker, as there could be some limitations. But if there are nonspecific ones, kvCORE can export as much as possible. You will need to export first, then contact kvCORE to allow them to move your account to a new brokerage.
Once kvCORE has cleared your email address to reuse for a new account, then we at Kelly Right can add it to our brokerage. If you are using a new email address, it won't be tied up to an old account so you don't need to ask kvCORE to clear it, but you will still want to export your contacts and any other information first as that account with your former brokerage will eventually be deleted.  If you use a different email so we can make you a new account, you will still need to request your former brokerage to delete your old account, as it will show you as an active agent with your previous brokerage, and catch leads that you will be missing.
 We highly suggest you export your contacts in your kvCORE account and any other CRM system you may be using with your existing brokerage so you will have a csv file (excel). Then, we can set up your new kvCORE account, and you can upload your file to your account or kvCORE can upload the database for you. 
If you need help with exporting contacts, contact kvCORE directly and they can assist you.  They also have an optional concierge service where they can assist you further, however this is your choice as you will have to pay for this service. You will need to contact kvCORE directly for this.
kvCORE's Sponsor: Modus Mortgage
Modus Mortgage was designed from scratch by mortgage professionals who wanted to create a better home loan experience for their clients. Our team of home loan experts is committed to finding the right mortgage for your needs, whether you're looking to buy your first home, your next home, or refinance your current home.
The right rate can increase your purchase power, all the while saving you thousands over the life of your mortgage. Put the Modus team to the test today, because rates matter.
kvCORE is sponsored by Kelly Right Real Estate's affiliated mortgage division, Modus Mortgage NMLS# 1028232. Modus was created by Kelly Right Real Estate's President, Joe Kelly, MLO# 90356. Modus is licensed and available in WA, OR, ID, MT, UT, FL, OK and AL.
It is not required that your clients use Modus, however we encourage you to introduce your clients and ask them to compare Modus to other brokers and lenders. kvCORE leads may possibly be contacted with mortgage updates and market conditions for comparison purposes.
>> Modus is selected as the mortgage finance option on your kvCORE account due to their sponsorship of the program. There is not an option to add any other sponsors, mortgage brokers or lenders to your kvCORE account. However, you can remove Modus as the selected mortgage finance option from your account.
If you are a loan officer, check out Modus' LO program.
lflores@modusmortgage.com  |  844-663-8711  |  Equal Housing Opportunity
HQ: 140 S. Arthur St #600, Spokane, WA 99202  | NMLS#1028232